Customer Service
Monday - Friday
8:30AM to 7PM EST
800.510.8325
NEED HELP? Chat with us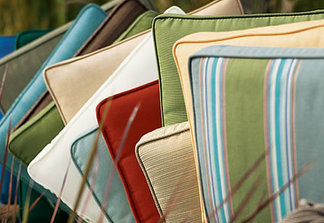 Outdoor Pillows are a great way to add comfort and style to your outdoor living spaces! The hottest trend in decorating is taking indoor design to the outdoors, and using decorative pillows outdoors is possible when you buy outdoor pillows from Throw Pillow Source!
When choosing outdoor pillows for your patio, poolside, or garden, it is important to choose decorative pillows that can withstand the elements outdoors. Our outdoor pillows are made from Sunbrella fabric, and carry a warranty against fading or mildew. What's even better is that Sunbrella Pillows come in over 200 fabric choices, so you can make your outdoor living area unique and completely custom.
Outdoor Pillow Choices
Because we can manufacture completely custom outdoor pillows, you can choose between a variety of styles and fabrics for your outdoor needs. Custom throw pillows or toss pillows can add a punch of color to brighten your seating areas. Our Bolster Pillows are unique and stylish on a chaise lounger by the pool, or a teak bench in the garden. Any style of outdoor pillow becomes a custom pillow when ordered in your choice of Sunbrella fabric.
The size of your outdoor pillows is important to take into consideration. We offer all of our custom pillows in different sizes to suite your individual needs. For throw pillows or toss pillows, 16" square is the most common size. However, you need to consider the size of chair, chaise, or bench on which your decorative pillows will be used.
Browse Our Wide Selection of Outdoor Throw Pillows